Paintless Dent Removal Professional
Top quality paintless dent repair craftsman. We have a PDR studio in Vancouver open Weekdays for drop off service. The studio is secure, insured, and setup with the best conditions to produce the best possible repairs. Appointments are encouraged.

We're qualified & vetted by 3rd parties.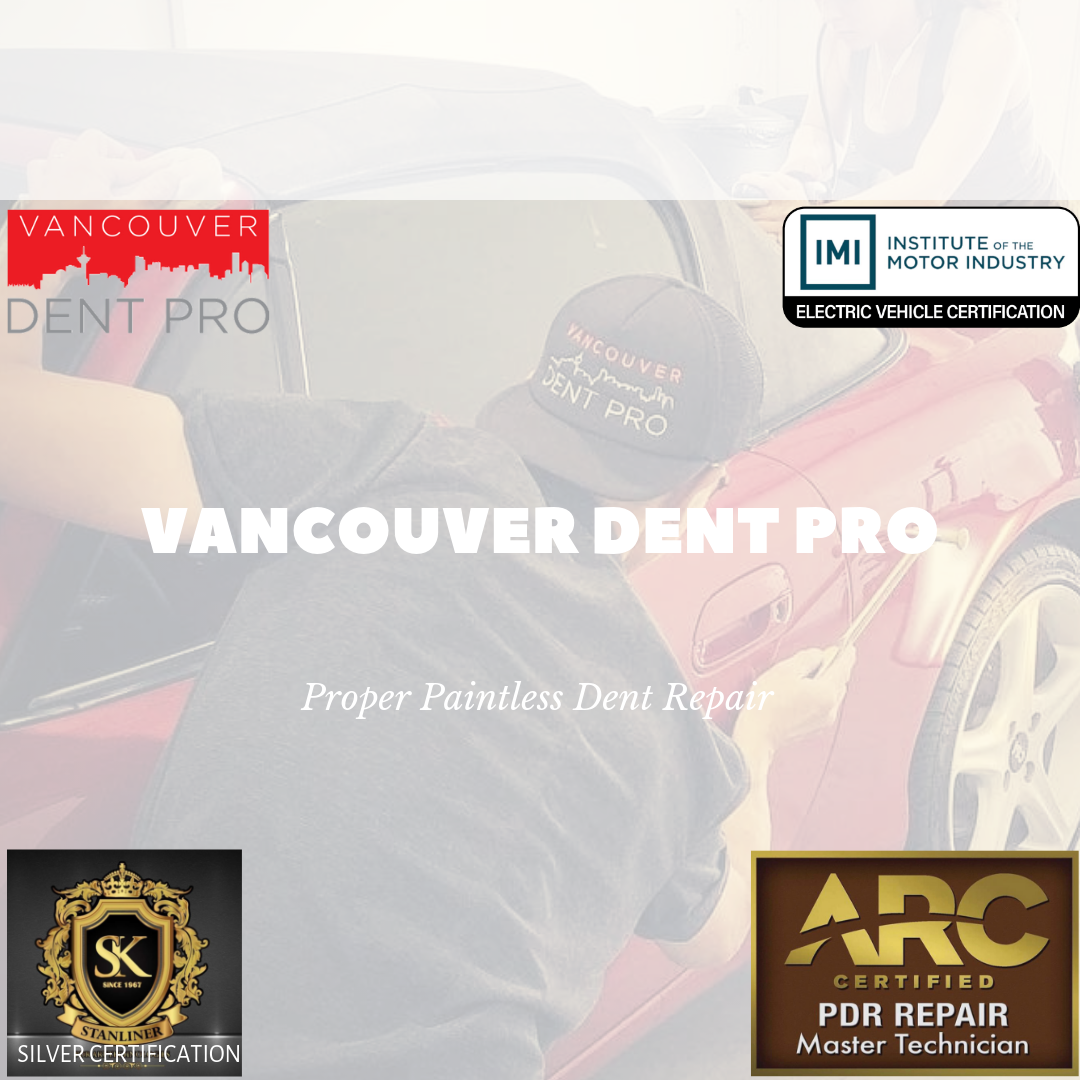 Paintless Dent Repair Certified
Choosing the right PDR service provider
Why certification? There is alot at stake when dealing with paintless dent repairs. An poorly attempted dent repair will lead to a trip to a bodyshop and could be a difference of hundreds to thousands of your dollars.
So how do you choose the right company for you? Personally I choose based on certifications first just like a dentist or doctor. Secondly, I check reviews like anyone else.
I understand these certifications don't necessarily mean much to someone out of the industry, but it does mean your potential service provider is vetted by someone.
You've Tried Your Best but You Got Dented: Let us erase the dent
So What's Next? What's this PDR stuff?
You try your best and park away from all the other cars; you pay the price and walk farther so your car is away from other vehicles and carts. But it can still happen, you get dented!
So the only options you know about is to try to live with the dent or have the dent repaired conventionally: stud-weld-pulled, filled, and REPAINTED at a bodyshop.
Maybe you've heard about PDR. What is it?
I have to tell you there is another way: PAINTLESS DENT REPAIR!
Please find a highly reputable paintless dent repair technician to reshape the dent perfectly to the original shape and not damage the paint.

Be careful because it requires high skill and there are under-qualified service providers out there. It takes about 800 hrs of practice AFTER specialized, good training just to repair a quarter size dent perfectly.
Please do not try it yourself with a DIY PDR kit.
It takes practice if you want the repair to look like it never happened and not damage the dent to the point it will need repaint.


In reality (unlike what the online merchant's quick videos show) dent repairs can easily get in a situation where the sheetmetal becomes irreparable without filler and painting. It may not be reversible.

*This means you only have one good chance at professional PDR . You may want to qualify who does the paintless repair.
1) We just need 2 pictures from a couple angles. They need to show the dent and where it is on the panel.

2) We also need the year/make/model of your vehicle to figure out the repair plan.

3) Let us know if the paint is factory OEM paint or if it's been repainted at some point (this is to see if we can apply glue pulling PDR)

We will give you an honest estimate and let you know what's needed to meet your expectations.
If you accept the estimate, you can book online.
You can book online at your convenience.

The system is simple and asks a few questions and once completed, it will send reminders to the both of us so we can all be efficient and clear.

This is great for getting things setup with reminders and confirmation.

For now we offer drop off service at our studio in Vancouver. We are well equipped and have a controlled environment to encourage a 100% effort to make the best repair possible.
About Me
As a professional I have to make many choices, decisions and corrections during a repair to produce a result without damaging your once-in-a-lifetime factory paint. I constantly leverage on my past knowledge and trainings and experimenting with new PDR technology. From my metallurgical engineering background, autobody, and advanced PDR training, I can make the best decisions for your vehicle and situation.
We want you to have the most professional, non-intimidating, professional service in Vancouver BC, Canada.
Please check with me first, I will produce THE closest thing to returning your vehicle to its original condition before the incident. I pretty much turn back time on your damage, since nothing is subtracted or added to the surface during my repairs.
Why Vancouver Dent Pro?
The very skilled trade of PDR is not regulated like other red seal skilled trades in Canada. So it is up to the individual technicians to stay ontop and invest in themselves for the best current practices : legal, safety, technical.
This can be a problem, as there are practictioners of PDR that have only learned from online video and youtube. There is no barrier for such persons to setup shop and start offering PDR services. It is up to the buyer of PDR services to qualify potential dent repair service providers.
PDR is a very high skill trade and it is easy to make irreversable mistakes and break OEM procedure without knowledge. For example, drilling an access hole in order to make access for tools to reach the backside of the dent. Drilling for access is not approved by any automotive OEM manufacturer as it will weaken the structure and possibly void the functionality of some sensors needed for airbag deployment. These are serious safety issues that need to be learned and studied.
I personally re-invest in continual education by travelling North America attending workshops and trade shows annually just like doctors and other experts to learn from industry leaders.
Here are my qualifications:
IMI Electric Vehicle and Hybrid Vehicle safety competent ( IMI EV Lvl2 certification, I am qualified world wide to power down/up High Voltage EVs and Hybrids such as Tesla and Prius)
Stanliner PDR Technology Silver Certification (Advanced PDR Technical training in Europe and I was the 34th person awarded silver certification)
ARC certified PDR Master Technician (un-biased double blind test to vet technicians that demonstrate mastery in the trade)
Do you have a question or are you interested to find out more about our PDR shop service? I'd love to hear from you and I'll always be happy to help.